Salads & Chili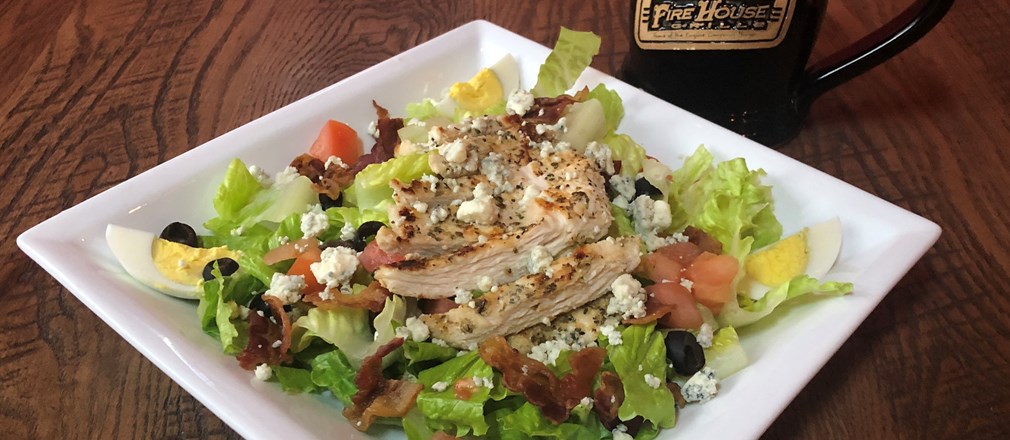 FIREHOUSE DRESSINGS: Ranch, Bleu Cheese, Honey Mustard, Raspberry Vinaigrette, Balsamic Vinaigrette, Italian, Parmesan Peppercorn, and Thousand Island
Award Winning Firehouse Chili
Homemade chili topped with Monterey Jack and honey, served with grilled cornbread.
Forest Fire Salad
Hearts of Romaine topped with boneless Buffalo chicken strips and fresh crumbled Bleu Cheese. Topped with diced tomatoes and croutons and served with chunky Bleu cheese dressing.
Taco Salad
Homemade taco bowl filled with seasoned beef, chili, or vegetables with melted Cheddar Jack and topped with chunky salsa, lettuce, tomatoes, green peppers, black olives, and sour cream.
Caesar Salad
Classic Caesar salad with roasted red peppers and topped with grilled chicken. Try it as a wrap!
Cobb Salad
Hearts of Romaine topped with bacon, tomatoes, olives, Bleu cheese crumbles, chopped egg, and a side of honey mustard. Topped with chicken.
Cajun Spinach Salad
A mix of Spinach and Romaine topped with Bacon, Tomato, roasted Red Peppers, and Cajun Chicken.
Consuming raw or undercooked meats, poultry, seafood, shellfish, or eggs may increase your chance of food-bourne illness.